We can finally get some fresh air! Lockdown rules are slowly starting to be eased in Scotland, so we thought of five easy bike rides to do in Glasgow, just a few km from the city center.
1.An easy bike ride along Forth & Clyde Canal
Let's start with an easy one!
Start your ride at Speirs Wharf and follow the canal up to Maryhill Locks before going down towards the Botanic Gardens.
The ride takes around 30 minutes by bike but nothing stops you from extending your journey with the ride below!
Distance from the city centre: 3.3 miles
Map: https://goo.gl/maps/kDx1fkJu8KXiPc4M8
2. A walk in the West End: Kelvin walkway
Let's carry on with this famous stroll! Kelvin Walkway is a path running along the Kelvin River. It goes through Kelvingrove Park and around the Botanic Gardens.
It is the ideal path for a stroll in the late afternoon to breathe a little fresh air.
Distance from the city centre: 2.2 miles
Plan: https://goo.gl/maps/pCrzaD4BtScePvJ58
3. A bike ride in East Glasgow: Seven Lochs Wetland Park
Seven Lochs Wetland Park in east Glasgow is home to, as its name suggests, seven lochs and around 50 km of walking and biking trails.You can reach the park by road or by the canal.
Distance from the city centre: 3.9 miles (park entrance)
Infos: https://www.sevenlochs.org/index.aspx?articleid=22252
Plan: https://www.sevenlochs.org/CHttpHandler.ashx?id=41788&p=0
4. Exploring the South of Glasgow: Linn Park
Linn Park is an 82 hectare park and one of the most overlooked parks in Glasgow. If you live in the Southside, it is fairly easy to get there. You can admire the ruins of Cathcart Castle and Glasgow's mini grand canyon!
Distance from the city centre: 4 miles
Map:https://www.google.com/maps/place/Glasgow+G44+5TA/@55.8048732,-4.2681854,15z/data=!3m1!4b1!4m5!3m4!1s0x4888470f1064f5c9:0xf10f3d277280d40!8m2103d55%20!%204d-4.2618693?%20Hl%20=%20en
5.  A bike ride down the Clyde: from Glasgow Green to Uddingston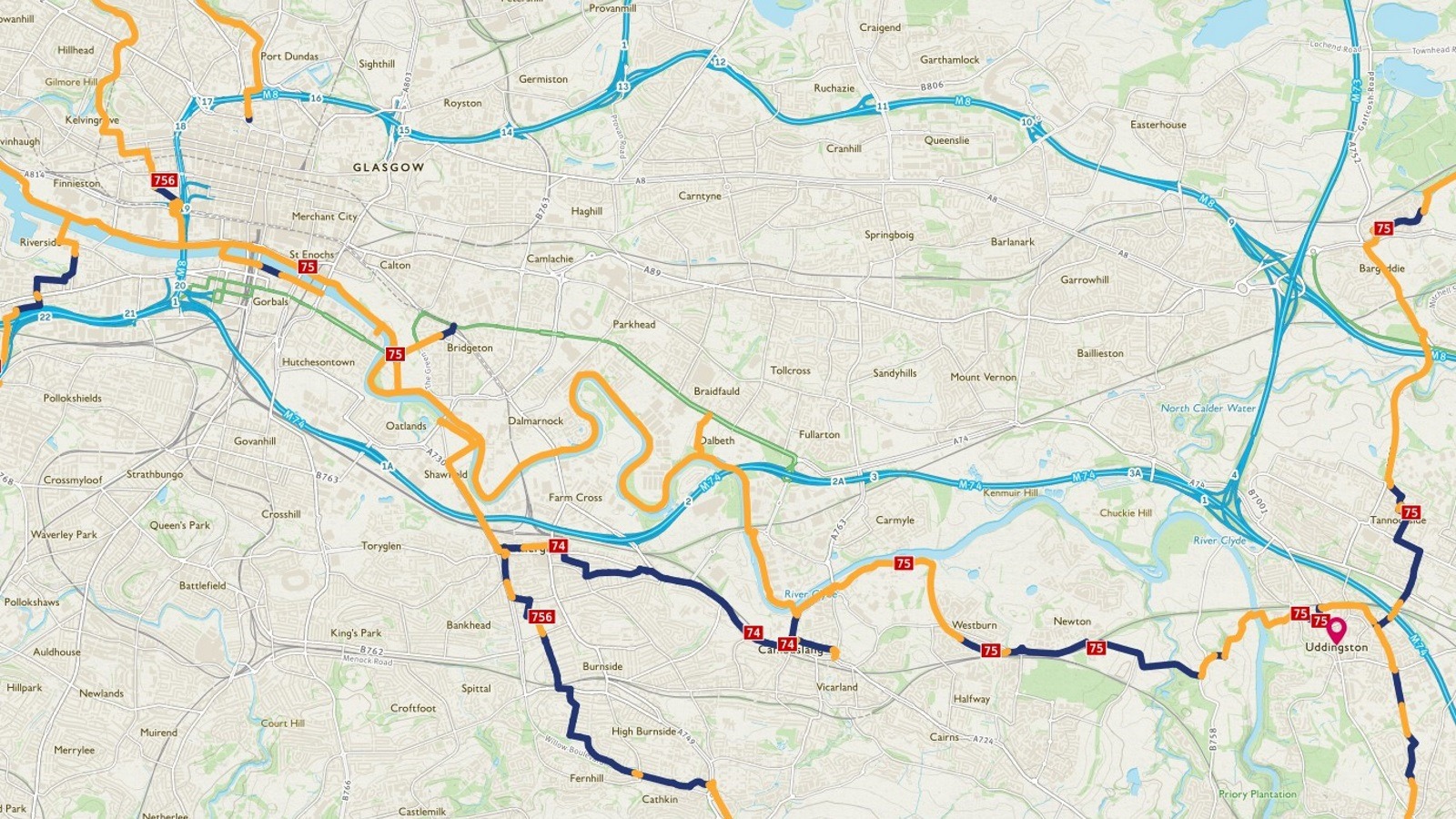 Our last one is a long ride to Uddingston: if you like ruins, this one is for you!
You can get to the small village of Uddingston in South Lanarkshire by following the cycle path number 75. The path starts at Glasgow Green and ends at Bothwell castle.
Distance from city center: 9 miles
Info and plans: https://www.sustrans.org.uk/find-a-route-on-the-national-cycle-network/clyde-walkway-glasgow-to-uddingston
If you have other recommendations, do not hesitate to leave a comment!